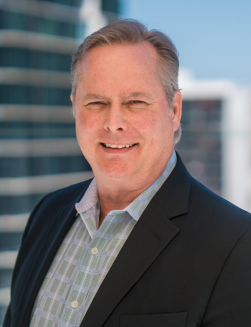 Derek Saunders, Esq.
Managing Attorney
"After 30 years of practice with multiple General Counsel positions, I've seen what businesses need to do in order to be successful. My job is to be your partner, and set you up for success."
About Derek
Derek Saunders is the Managing Attorney at L&F Brown, P.C. He brings over 30 years of experience counseling businesses from start-ups to emerging growth to major corporations. Having practiced in the technology centers of Austin, Texas, and Northern California, Derek has extensive experience in both technology-based and traditional industries. Derek loves working with start-ups and smaller companies because of the outsize impact he can make on their growth and ultimate success while serving as a close advisor during the process.
Derek counsels his clients on all aspects of business law, including but not limited to:
Corporate formation and structuring
Corporate law and governance matters, including acting as corporate secretary and managing Board meetings
Corporate finance, fundraising, and securities law
Contract drafting and review
Structuring, negotiating, and managing a broad range of complex business, financial and commercial transactions
Intellectual property matters
Arbitration, mediation, and management of outside counsel
In addition to practicing law as an attorney, Derek is an entrepreneur, which gives him a unique understanding of the challenges faced by growing businesses. Derek served as the Founder and CEO of WaterTexas, an early, high-profile participant in private water rights transactions and water supply development in Texas.
Before serving in his current position, Derek held General Counsel and Executive Vice President roles for over 15 years at multiple technology companies including TrueClear Water Solutions, Playport Gaming Systems, nVenio Healthcare, and Adhesive Software. Derek holds a B.A. in economics from Duke University and a J.D. from the Dedman School of Law at Southern Methodist University.
Education
SMU Dedman School of Law (1986)

Doctor of Law (J.D.)

Duke University (1983)

Bachelor's Degree Economics, History
Get Your Questions Answered Now.